soulshardwiccan
Just a quick overview of Billy Kaplan and his tangled family tree.
A long time ago, in a continuity far, far away...
YOUNG AVENGERS

EPISODE IV:
A NEW DORK


STRIFE HAS TAKEN A STRANGLEHOLD UPON
BILLY, CASSIE, TEDDY, ELI, AND KATE AS THEY
MUST DEAL WITH THEIR GREAT FOREBEARS-
THE AVENGERS! THREATENED BY THE
OLDER HEROES TO REVEAL THEIR SECRET
IDENTITIES TO THEIR PARENTS, OUR
STALWART HEROES INTEND TO TELL THEIR
PARENTS WHO THEY ARE BEFORE THE AVENGERS
CAN DO IT FOR THEM. UNFORTUNATELY, A
SURPRISE ATTACK FROM AN AGE-OLD FOE,
THE SUPER-SKRULL,, HAS RESULTED IN
THE CAPTURE OF BILLY KAPLAN'S LOVE,
TEDDY ALTMAN, BETTER KNOWN AS HULKLING!
IN AN ATTEMPT TO FIND THEIR LOST
COMPANION, THE TEAM RELUCTANTLY TURN TO
THE AVENGERS IN HOPES OF MOUNTING A
RESCUE EFFORT BEFORE IT'S TOO LATE...
The Young Avengers head to Stark Tower, hoping to find Tony or Steve, so they can better attempt a rescue, instead, they find Vision and Jarvis, who agree to help find Tony. As soon as Jarvis leaves, Vision isable to reveal a fact about his programming.
Built into his system is a protocol known as the Avengers Fail-Safe Program, capably of locating men and women who would be able to take the mantle of Avengers if and when the main team should ever fall. This was how he was able to find Eli, Billy, and Teddy. Hoping to find more heroes, Vision and Billy begin sifting through the information, until they find...


Before Billy can completely shut him down, Vision and Kate point out that he's also capable of blowing shit up by vibrating molecules to the point of violently separating. Billy listens to reason, and they go to find him.
Only problem? He's locked up in super-powered juvie, where they're experimenting on Tommy, trying to turn him into a living weapon. The search-mission turns into a rescue one, with Billy, Vision, and Cassie heading in, due to size-changing and shape-shifting capabilities. They make it in with little difficulty, and are very nearly able to release Tommy when this happens.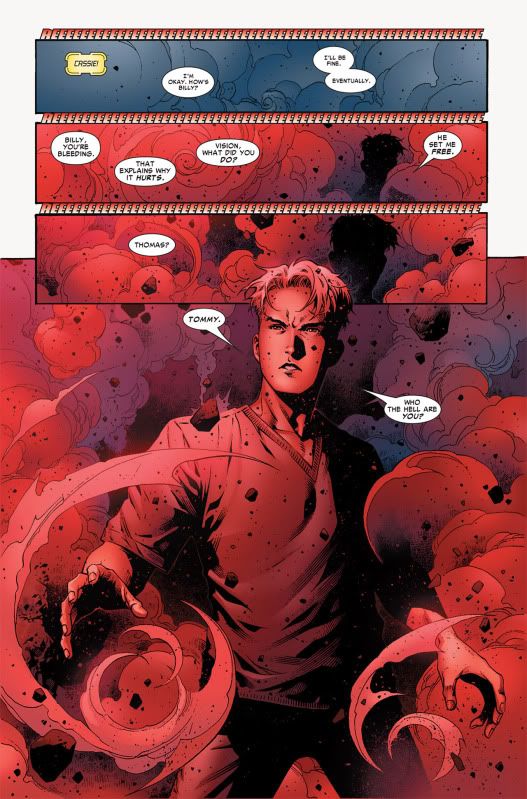 And then The Parent Trap Syndrome occurs when Billy and Tommy discover...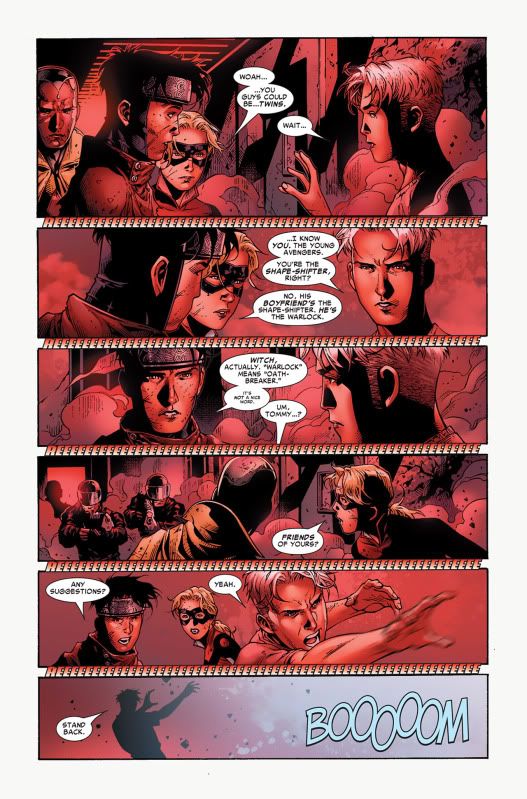 Shit hits the fan, fights happen, and people discover Tommy's a sociopath with little regard for human life- not something they were expecting. After they extract an oath that Tommy won't kill unless absolutely necessary, they head off to find the Super-Skrull. They do, only to have their party crashed by the Kree. Seems Teddy's half-kree, half-skrull. On top of that, he's the child of Captain Mar-Vell, better known as Captain Marvel, former hero of Earth. And both races want him to come back to their respective empires.
They save the Super-Skrull, and he's thankful for everything.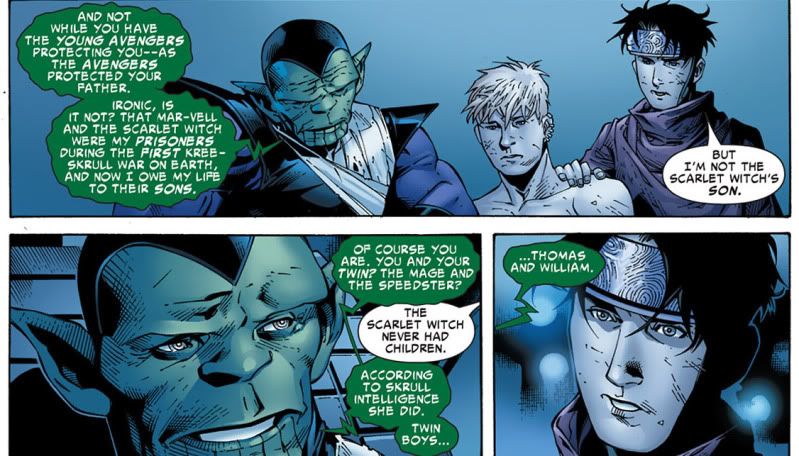 And now we go down retcon soap opera lane.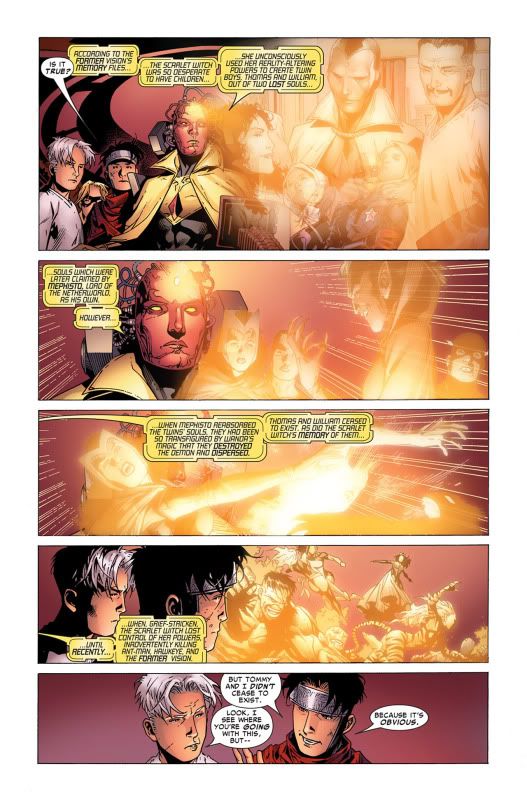 Obvious you're a fanboy?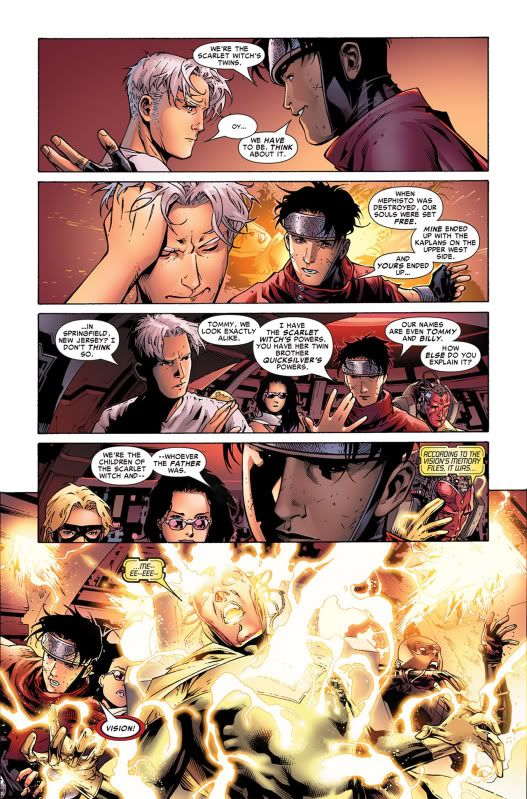 That interrupt happened because the ship they were on was hit by a surprise Kree attack.
But thus begun the road to finding the Scarlet Witch, and indeed, finding out that Billy and Tommy are indeed William and Thomas Maximoff, concluded in the Children's Crusade, which I may write about in the future.